Okay, this page is where we're gonna discuss which films look their worth of popcorn in the theatres right now. Keep in mind, these views are mine and are not to be taken as Gospel. If you disagree with me, please send me your view(s) and I'll post them as well!
---
---
No, that's not a photograph of the Nile! That's from the motion picture, PRINCE of Egypt! DREAMWORKS, SKG created a true masterpiece that challenges all other animation studios around the world! This animated epic about the story of Moses from Exodus in the Bible is in every way a masterpiece. What stood out to me was not the songs (which are not Disney-esque at all), nor was it the superb animation that has never been equaled, but rather the way it contrasts against all other animated films ever! There are no "cute" sidekicks like you see in EVERY Disney film. (look for the Rosie voiced ape in this summer's DIsney flick, TARZAN!) There is no ultra-bad guy for you to root against. There is only the real life ignorance of Ramses, Moses' brother who became king of Egypt. Ramses was afraid of Moses' god-figure and was afraid of losing his slaves to his brother, Moses. He challenged Moses' god and looked to his priests as guides and advisors. It wasn't until the death of Ramses' son that he finally agreed to Moses' decree of "Free my people!" (I'm not giving away any spoilers here, folks. Read your Bible for the whole story!) We then see Moses guide his people to the Promised Land and through the Red Sea which he parted with God's help. (This scene was fabulous! Disney never did anything like this! I heard it took a whole team of artists to make this sequence and it took up about 600 hours of computer animation!) This isn't your grandparent's cartoon film. This is based on the Bible and should be seen by everyone if not for an introduction to the Bible, then as a treat of some of the best animation ever produced. You don't have to be religious to enjoy this film.
---
A BUG'S LIFE


A very entertaining film. My first impression was that this would be a "kiddie" film with no apparant competition to the adult natured ANTZ. Was I wrong! There really wasn't any comparison. Sure, ANTZ has a more "dirty" look and atmosphere and a more realistic look at the ants, but A BUG'S LIFE has a better plot and storyline that is way more enjoyable. It's funnier too. Each character has their own personality and have a tight comraderie with each other. Through thick or thin, they stick as a team...no...a Family. Look at those colors! Neat, huh? Check out the detail when you see this film, you'll be really surprised! Also, stay for the end credits. You'll be treated to some animated bloopers! You get to see where our animated heroes mes up their lines and have to repeat them continuosly. :-) It's funny and cute. We also get a guest appearence from Woody of TOY STORY who stars in TOY STORY 2 which should be out next year.
---
VARSITY BLUES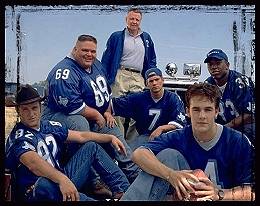 A friend asked me to go to the movies with him and a few others. When asked which film he wanted to see, he said "VARSITY BLUES." I said.."No! I refuse to be insulted by that film!" So, what did I think of it? Well....I didn't go see it! HA HA! Take that MTV! Instead we all agreed to see A BUG'S LIFE. We all enjoyed it and I'm sure no one regrets not seeing VARSITY. Another friend did see it, and she said that it was better than she thought it would be. SHe said, "Peter, you'd like it. It has lots of women and sex in it." I didn't look impressed. Is this what it takes to bring in an audience? "And nudity!" she said. OKAY! I'll rent it now! :-) (I'm very base, I know. HAH!) Seriously, I see the trailers for this film and what I see is a bunch of redneck, inbred, hicks trying to score points with the women and on the field. They drink all the time, fight and get laid. Seriously, that's what the trailer looks like to me. Sorry, I have better films to see, like...
---
AMERICAN HISTORY X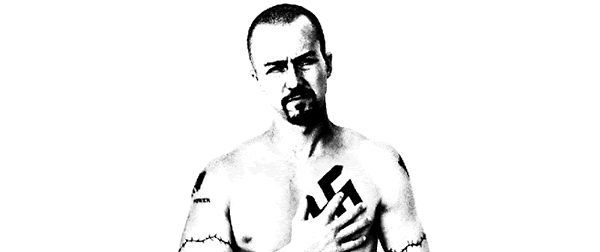 How is this picture supposed to represent a better film that VARSITY BLUES? At least that film didn't have Nazis, right? Guess what folks, this film is not about Nazis. It's about aserious, intelligent, independant film that does things VARSITY could never hope to do. This is an intelligent film starring Ed Norton (from PRIMAL FEAR and EVERYONE SAYS THEY LOVE YOU) as an uber nazi. He purposely kills two black men who tried to steal his truck. I must say that he didn't just "pop" them, he freakin' brutalizes them! It'll send shivers down your spine like it did mine. Your teeth is guaranteed to hurt after you see that scene. Trust me. He then goes to jail where he is then surrounded by blacks, hispanics and a few other nazis. He soon learns that there is no protection in the lot he chose for himself. Not even from your own kind. You'll see a scene that again, will disgust you. (This is not a pretty film. If you are faint of heart or easily disturbed by realisticly disturbing films, DON'T see this.) Derek (Norton's character) then is released after 3 years in prison and after he realized the truth of his life. He actually befriends a black inmate who, he realized at the end of his sentence, is his savior during his prison life. A moving scene.) Derek goes home only to realize that his kid brother is now just like he was. He decides he has to get his family away from that life and to a better world. What happens at the end will shock you and horrify you. I am still disturbed by the ending and I saw this film in mid-December last year!
---
| | |
| --- | --- |
| | According to one review I read, it's ALIENS without the aliens, but instead with the Borg from STAR TREK. "Gently remove Sigourney Weaver and replace with Jamie Lee Curtis." I like Curtis, I think she's really cool if given the right role. I really dug her in TRUE LIES. This film looks keen as a super thriller. Sure, it's nothing new and we've all seen it before. But I like that stuff. I dig sci-fi flicks and I love alien films that are super-thrillers! The review I read on Ain't It Cool News made me feel that this is a film I must see! Along with the next film... |
---
IN DREAMS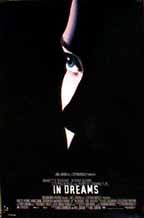 All I've heard about this film is that it's one of Robert Downey Jrs' best films. I've heard that he is soooooo scary in this film! He became totally immersed in his character that when you see him on screen you cringe in fear! I think he's a great actor and love just about everything he's done. Sp I plan on seeing this film as soon as I can! (Doesn't that poster look like the one from DEAD AGAIN..almost?)