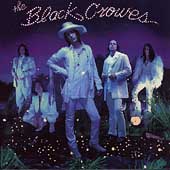 The Black Crowes
(rock)
CBS 69361
1 - Go Faster
2 - Kickin' My Heart Around
3 - By Your Side
4 - Horsehead
5 - Only A Fool
6 - Heavy
7 - Welcome To The Goodtimes
8 - Go Tell The Congregation
9 - Diamond Ring
10 - Then She Said My Name
11 - Virtue And Vice
The overall tone of this CD is a throwback to the early 80's when rock was rock and grunge was something you wore. In fact, I sense an inspiration from Steve Miller in many of the songs where the vocals tend to achieve a rock-folk effect in the choruses. This album has already captured the faith of thousands of people around the country and hundreds of radio stations country wide and it isn't hard to see why! The opening track rocks away telling you to Go Faster, "or I will pass you/If you slow down, I will outlast you!" That's a pretty bold statement too, considering their last three albums have waned over the years since their debut.

There's a little for everyone here. Only A Fool has a rock-gospel sound while Go Faster commands - not begs - you to get movin'! Some of these tracks sound as if they were performed by Aerosmith and if you like the boys from Boston...then you'll love these men from Atlanta!

I'll have to admit, I really didn't dig their recent stuff. But this new album rekindles my faith in these guys and after hearing this album, I'd say that there's definetely a few more albums left in them!